Planning Area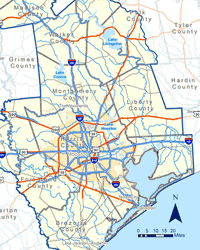 Region H detail map
Region H, located along the upper Texas coast, consists of all or part of 15 counties; Austin, Brazoria, Chambers, Fort Bend, Galveston, Harris, Leon, Liberty, Madison, Montgomery, Polk, San Jacinto, Trinity, Walker, and Waller. The eastern portions of Trinity and Polk Counties are included in the Region I planning area.
The Region spans three rivers and four coastal basins in southeast Texas. Region H encompasses the San Jacinto River Basin, the lower portions of the Trinity and Brazos River Basins, and includes part or all of the Brazos-Colorado, the San Jacinto-Brazos, the Trinity-San Jacinto, and the Neches-Trinity coastal basins.
This area includes: the Galveston and Trinity Bay estuaries; the urbanized, rapidly growing Houston-Galveston metropolitan area encompassing Brazoria, Harris, Galveston, Fort Bend, and Montgomery Counties; the coastal port communities of Galveston and Freeport; and agricultural areas in Austin, Chambers, Leon, Liberty, Madison, Polk, San Jacinto, Trinity, Walker, and Waller Counties.